After 16 months of work   Asst. Prof. Abbas Zughair Al-Mariani ( Ph.D. ) issues a new book , which is under the title of  " Pollution and Environmental Awareness ( Concepts and Applications ) " , which carried the international numbering ( ISBN ) from Dar Al-Sadiq Cultural Foundation ( Printed Publishing Distribution ) Iraq – Babylon  .
   However, the book includes four scientific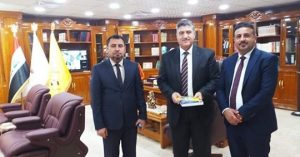 chapters , the first chapter comes under the title ( Environment and Environmental Awareness Concept, Evolution and Importance ) and deals with the kinds of environments, its elements , dimensions , the importance and goals . While the second chapter entitled ( The Environment Between Balance and Environmental Exhaustion ) , discusses  human interventions in the environment , the environmental effect on humans , as well as , the relationship between humans and the forms of Environmental pollution . Moreover, the third chapter involves aspects of environmental pollution for selected regions according to measurements , field studies and laboratory tools for measuring air, water and soil pollution , noise, food , radiation, waste and fire .Finally,  the four chapter , it discusses environmental awareness institutions, agreement , environmental education , environmental planning , tools and components .
Translated by : Saddam S. Hmood